Here are the strings Boo/Don wanted me to review.
I'll allow Don give you any details about the materials used. I think it's best for the testing if I don't get too involved with the material. I just like to focus on the shooting performance of the string itself.
String #1 . . .Black and Blue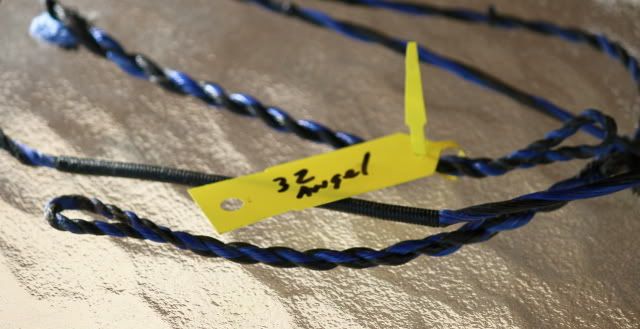 String #2 . . .Tan and Green
I've never gotten a bad looking string from Boo. Matter of fact, I've never gotten one that didn't look absolutely great.
Don't those braids look GREAT!
The material string #1 definitely had a stiffer feel . . .almost plastic feeling. It also had a slight more shine to it than String #2 and the Excal Fast Flight. Here are a couple of pictures of the strands.
String #1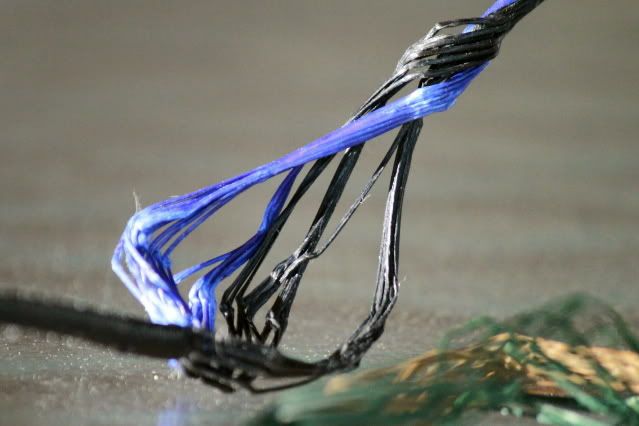 String#2
Excal Fast Flight
Weights . . .
String#1 133.5 grains
String#2 125.5 grains
Excal Fast Flight 121.5 grains
Speed . . .
I used the Exomax, a 411 grain arrow, brace height @ 1 1/8th inches from the riser, and clocked with a ProChronoDigital Chronograph. The temperature was 81 degrees and sunny.
String#1 . . . 323.5 FPS
String#2 . . . 323.8 FPS
Excal Fast Flight . . .325.2 FPS
My initial thoughts . . .neither string #1 nor #2 took very long to break in. I took about 15 shots each, did my adjusting and they stayed put on my brace height until I finished shooting them, 30 shots later. I adjusted them about 1/4 of an inch after the first 15 shots.
String #1 and String #2 definitely had less "aftershock" than the Excal Fast Flight and they were quieter too. I'm going to attempt a sound test later today or tomorrow, time permitting.
Give me your questions and I'll do my best to answer them.