---
Shadower wrote:A few pics of bears at our baits

Gary

www.thunderstockoutfitters.com
________________
Sent from a mobile device - So spelling and grammar may be questionable at best...
---
"Team DryFire"
Vixen, HHA Optimizer, Redfield Revolution, Boo & VixenMaster strings, Munch Mount,
---
Hey Gary - great photos!
BTW, you did everything right in how you posted the links.
There's just one setting you need to change in photobucket which will get rid of the URL part of the link (that's the part that was keeping your photos from displaying in the original post).
Here's how:
In photobucket when you click on a photo the links appear on the right side of the screen.
Under the links you'll see
"Update link options"
- click on that.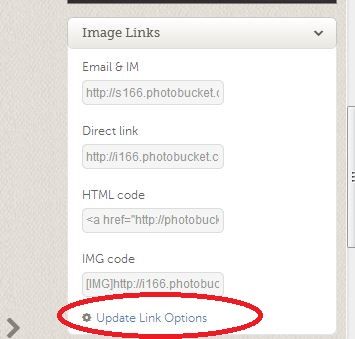 You'll then get this screen -
make sure there is a
check next to "IMG code" and "Turn on easy linking mode":
Here is a screen shot of the settings with the issue resolution highlighted -
link back to albums needs to be UNchecked
. That will remove the extra URLs we were seeing.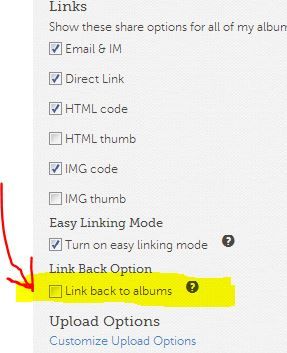 Make sure you save your changes: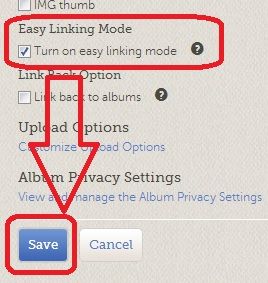 That's it!
After that you can obtain the image link from the album view (multiple small images displayed) - click on the image link, then right-click and copy it. Then just paste it into your forum post.
If you're getting the link from the individual larger image you'll just need to click on it and it will copy on its own. All you'll have to do is paste it.
I hope this helps!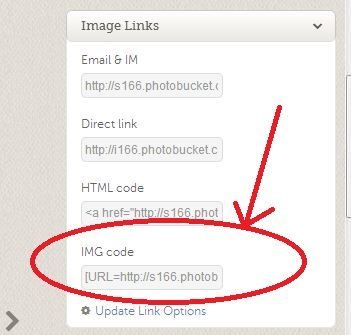 Let me know if you have any problems!
________________
Sent from a mobile device - So spelling and grammar may be questionable at best...
---
"Team DryFire"
Vixen, HHA Optimizer, Redfield Revolution, Boo & VixenMaster strings, Munch Mount,
---
Who is online
Users browsing this forum: No registered users and 1 guest