I went hunting this morning with my friend Jonathan on some Fulton county property we have access to hunt. Things were real slow to start with nothing but squirrels moving. Then at 10:00 I saw a deers tail flicker and watched it as the young spike fed its way in. It came up to my right side to where there was alot of honeysuckel vine that I could not shoot through. It fed for about 10 minutes here only about 12 to 15 yards away from me. I am on the ground with a tree to my back and downed logs going down either side of me for cover. The deer finally decided to work its way around the honey suckel and even more towards me before it spotted me when it was only 7 yards away and still no shot! There were just too many vines in the way and the only thing in the clear was its head, and it was looking right at me. It finally blew and began to run off which was when I got up on one knee good and propped up on my elbow. I knew it would stop to look back, and it did. I made a quick guestimate at the range to be just over 30 yards. But it happened to stop with a tree perfectly blocking its vitals and standing broadside too! Then it messed up and took a couple steps bacwards so it could see me better. Well I could see it clear now too and let an arrow fly. I never can see my arrow in flight but I did hear the sound of a solid hit. The deer spun and ran away at a good speed while I sat there replaying the shot. Not seeing the hit I was definitely worried, but gave it some time. When I got up to walk off the distance I was around 35 yards to where I thought it was. I found my, now red arrow on the ground and soon picked up a very good blood trail. WHEW, feeling alot better about the shot now! I follow the path looking ahead the whole time. I get a little worried when I find the trail circle around on itself. But then look up to see that it didn't go far from there and I had walked passed it from where it circled around before piling up. The Rage 2 blade 2 inch cut made an awesome hole and this broadhead now has me sold. I am surprised that the deer made it about 80-100 yards before piling up. But it was down and I found it so I'm a happy hunter!
The happy hunter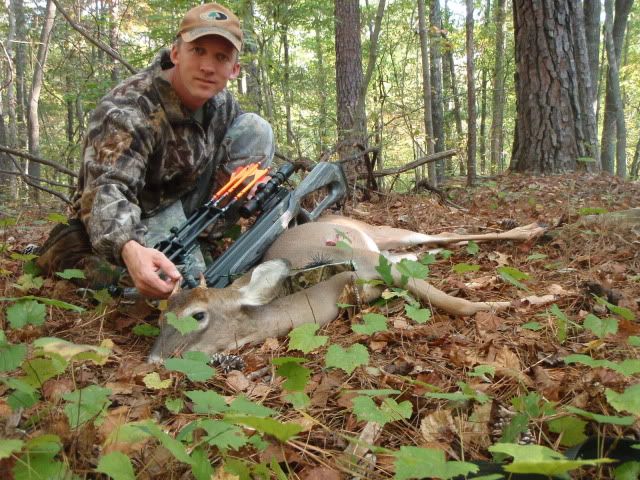 2 blade Rage and the entrance hole.
The Excal and its quarry.