Wasn't too motivated to go out today. Have been bucking a nasty flu that's going around and it's still hanging on. Sitting in the cold trying not to cough wasn't too attractive.
Got up and stalled. Almost didn't go. Got out to the stand about 8:30. Was tempted to huddle in the blind where it might be warmer and less windy, but climbed into the tree stand instead.
I took out my Wabi call and tried a few soft bleats. Only some fat squirrels. 30 minutes later I tried two bleats followed by buck grunts and about 9:30 I watched a little buck come out about 80 yards away and wander past my blind and back. I bleated to him from the stand but he wasn't interested. ARGH. If only I'd been in the blind!
Just before 11 a.m. I tried another bleat-grunt sequence. Getting to the point where I'd had just about enough of being cold when I heard noise behind me. Was sure it a squirrel.
Well, this time it wasn't. The same buck was coming in from behind me along a path that would lead him past my stand. I held my breath and squeezed my eyes shut every time he looked up at me. He kept coming. Each time he looked away I slowly raised my bow.
I was waiting for him to get past me so I could get that classic quartering away shot, but as he come closer he angled in front of me. He passed behind a tree then began to turn back toward me.
Now or never.
He presented quartering on, so I put the crosshairs in front of his shoulder, aimed for the opposite leg and pulled the trigger.
NOTE: I strongly discourage anyone from taking this shot angle. It is high-risk and too many things can go wrong.

He took off and I saw 1/2 of my Big John arrow drop into the leaves. Oh no! No pass-through.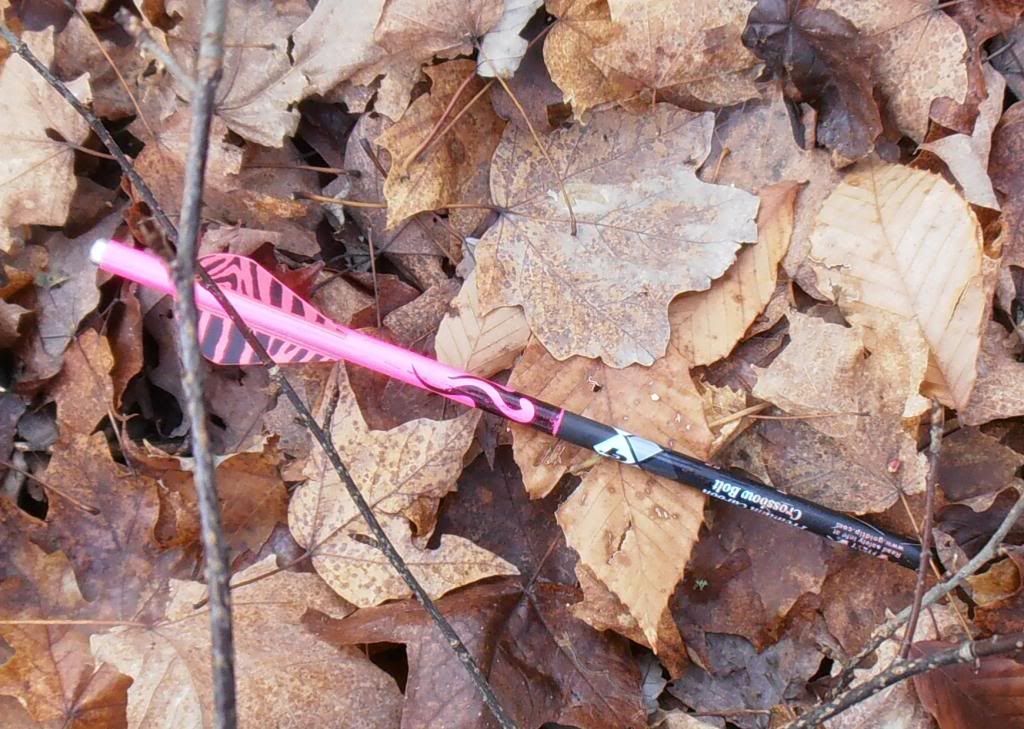 Didn't have to worry though - I watched him fall about 40 yards away. Dead before he hit the ground.
Later we found the TrophyRidge Hammerhead expandable had severed his heart and both lungs Very satisfying.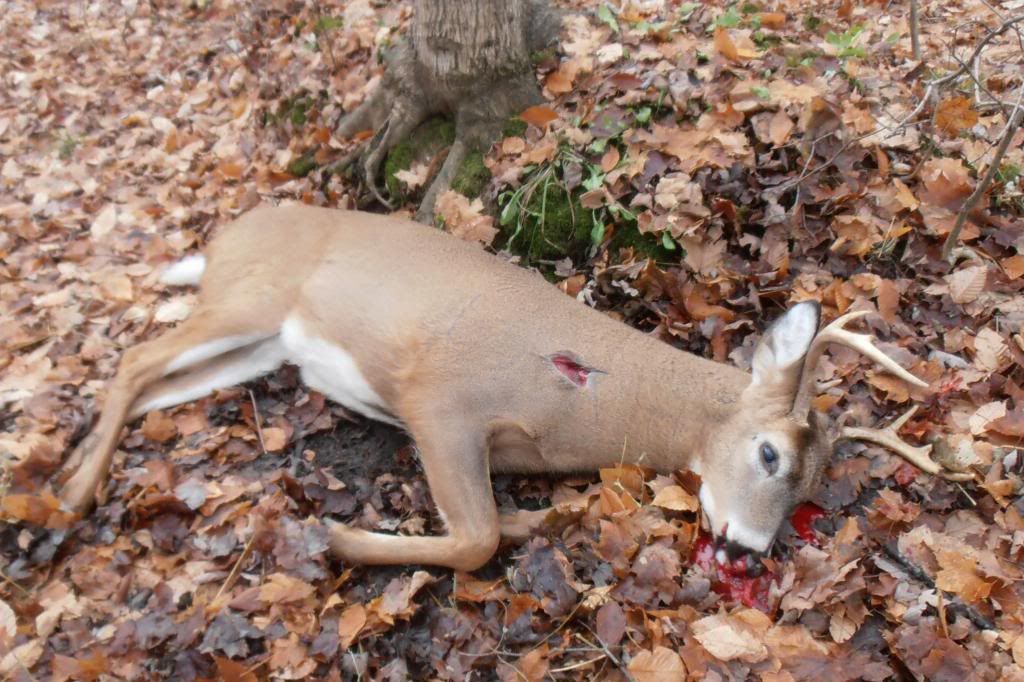 Huge entry wound: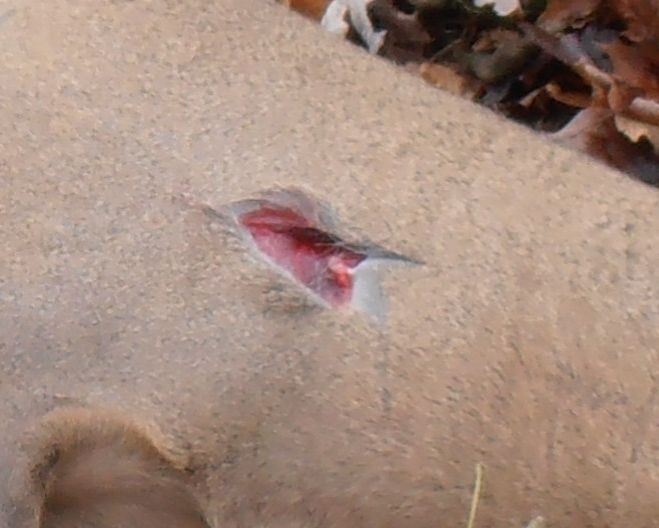 Called Tim and told him to bring the "Deer Ambulance"
He brought along some medics: (More likely they wanted to make sure it was real!

)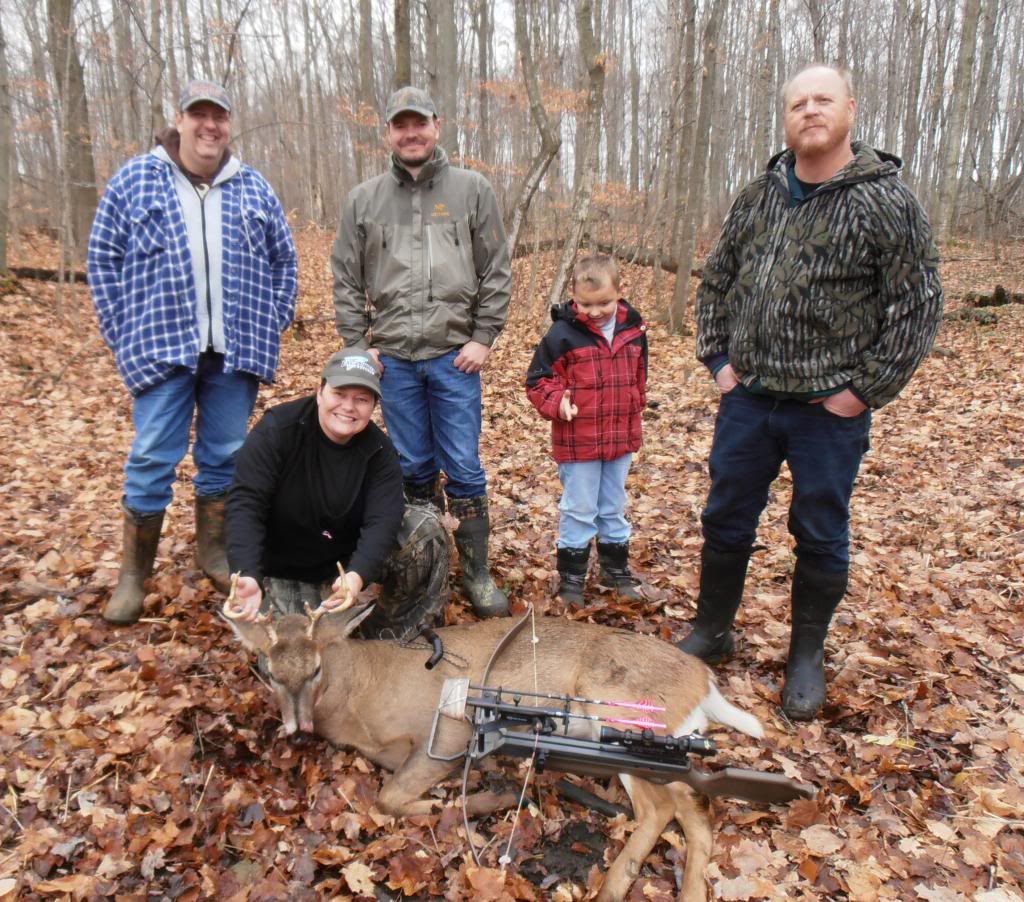 Custom Boo String, Big John's custom arrows, Munch Mount, Wabi Custom deer call, DaGriz Custom Knife - I am blessed with many talented friends!
The DaGrizz knife didn't stay this pretty and clean for long...

Tagged: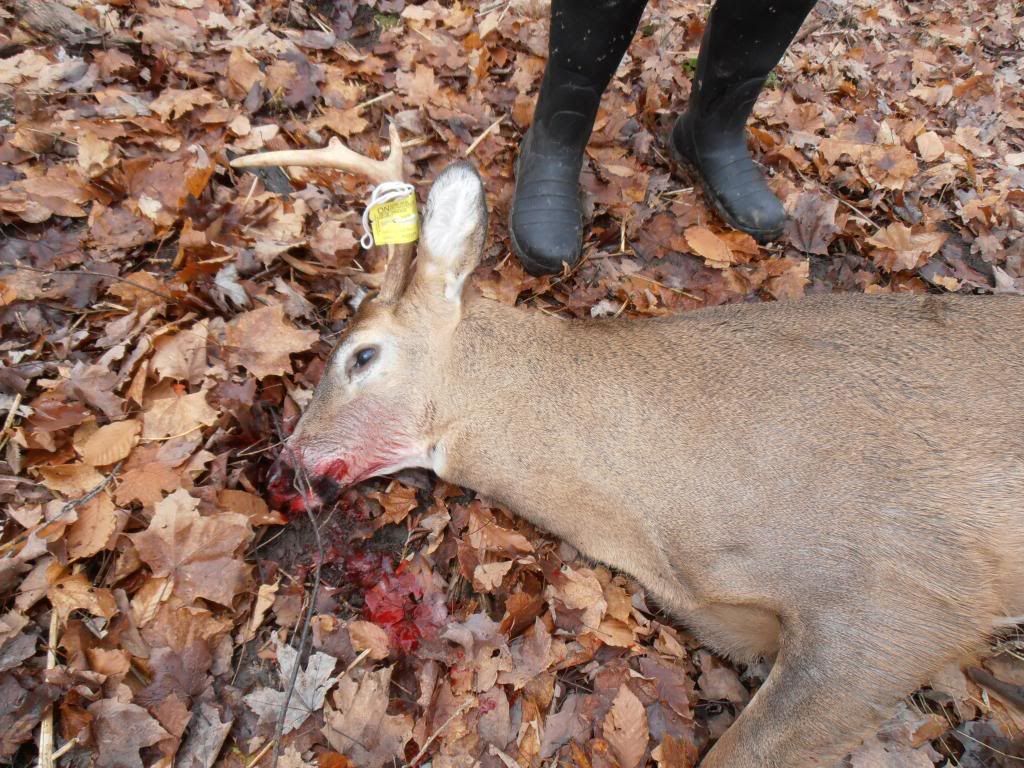 I wanted to hear "Hey little lady, let me gut your deer for you!" No such luck, but they did help unzip him and hold him for me: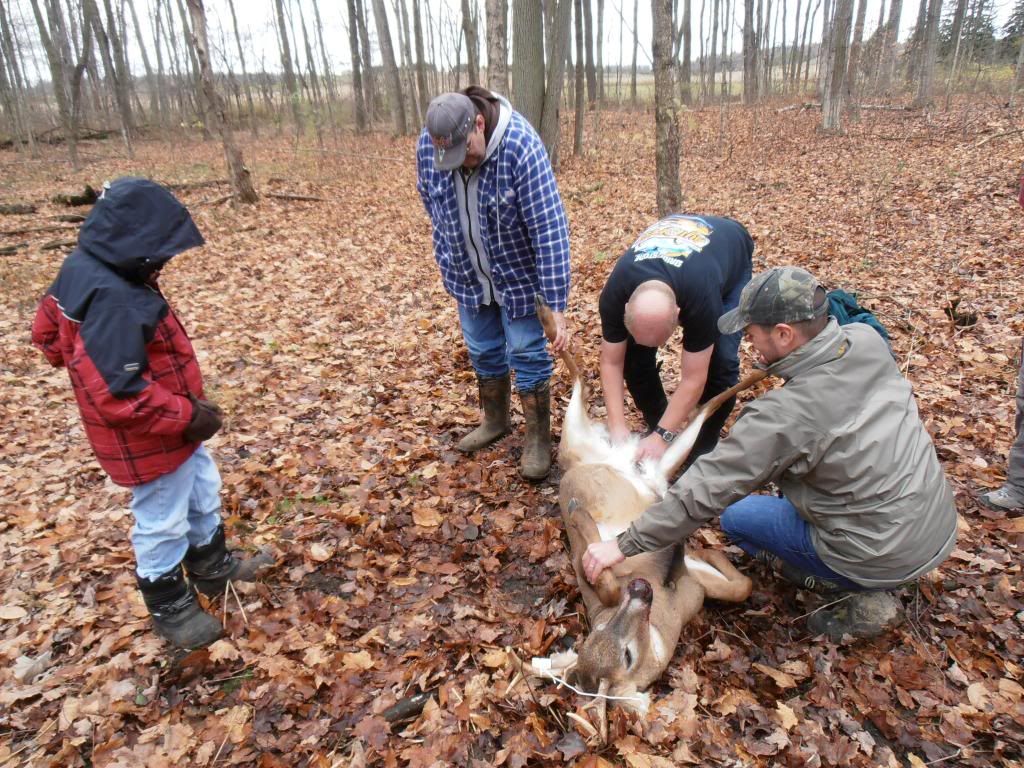 The part of the arrow from inside the deer: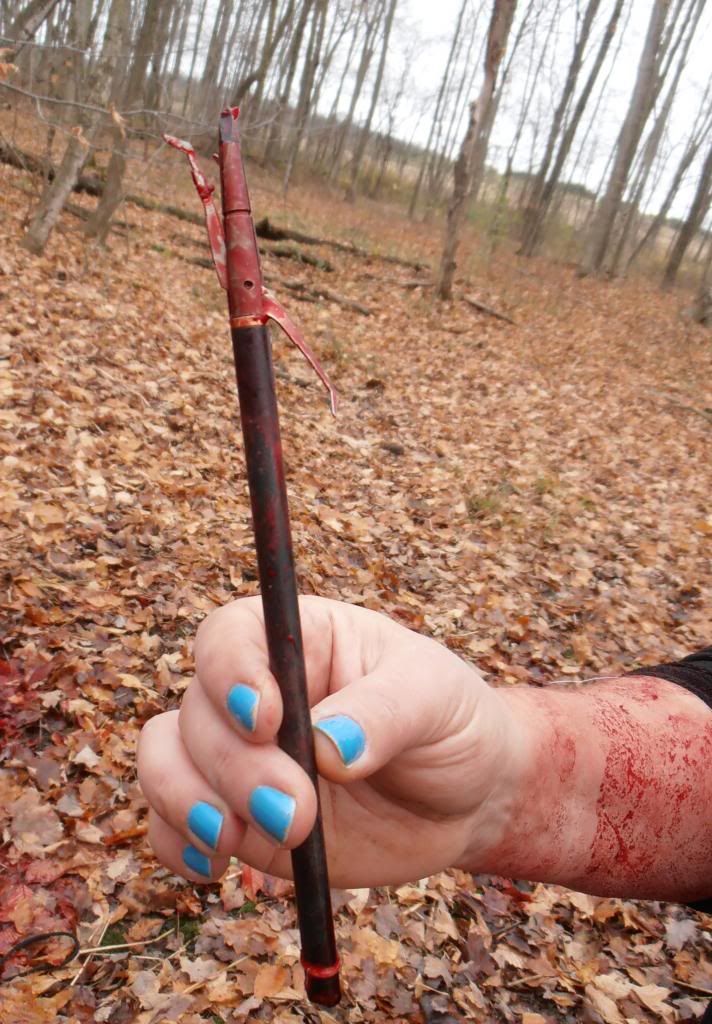 Ryan/DirtyGun helped drag: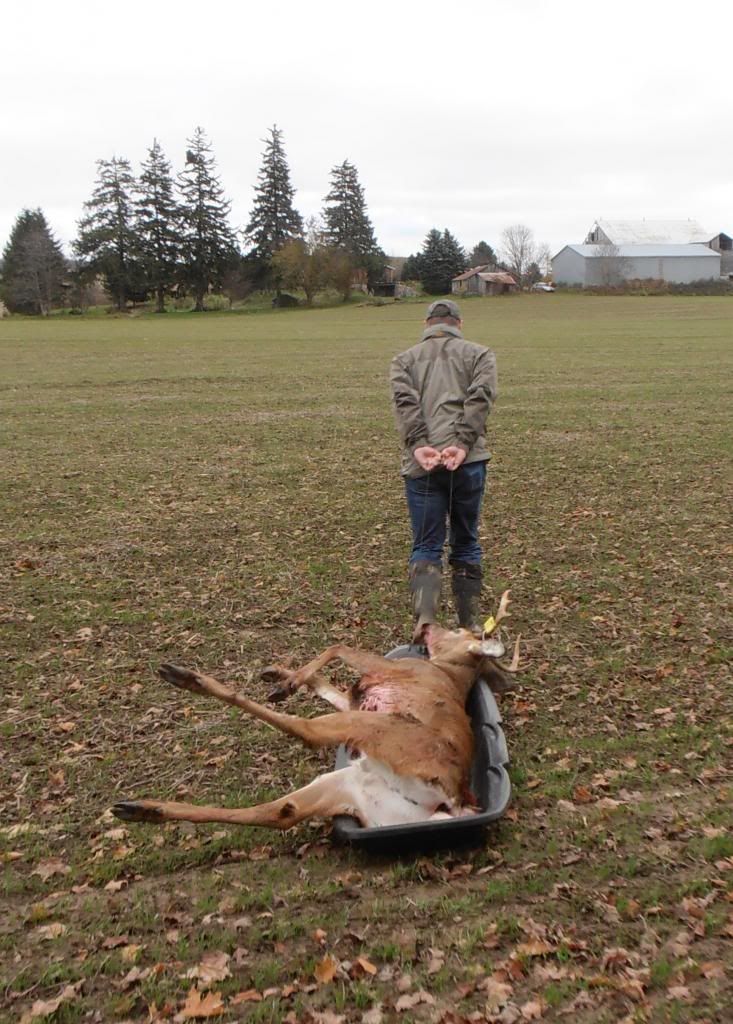 No gurney to get him into the ambulance - a little help from friends: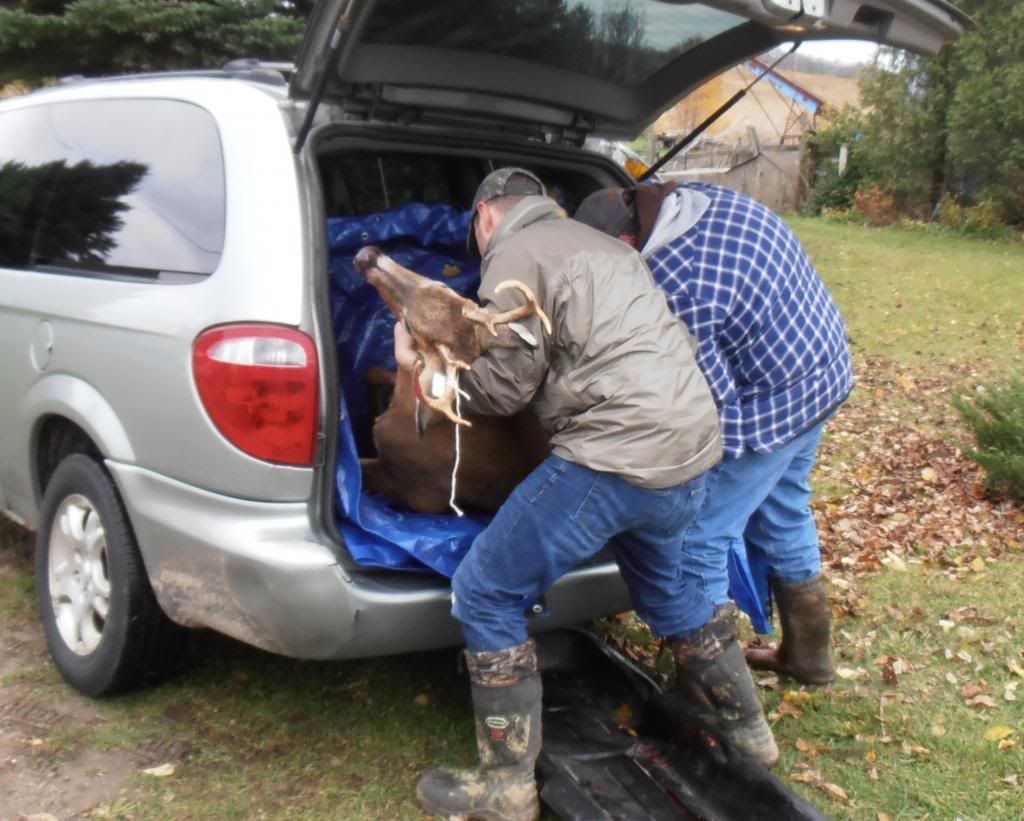 I thank God for the deer, for the hunts, for the memories - so many blessings! I thank all whose hands have crafted the items on my Vixen and the things I pack for my hunts - I feel like I carry a part of each of you with me every time I go out. Am also thankful for the friends who celebrated with me this afternoon in the woods and in cyberspace!