Shot a nice 3 year old doe tonight. Matrix 310, 8ptbuk Rhino string with whiskers, 100 grain Kill Zone.
She went about 60 yards and expired
Pictures posted are from home just before skinning it out as I didn't have my camera along
It was almost 60 today, so I brought her home right away. Will be in the 30's tonight so should be alright till daylight, then I will skin her out, quarter her up, and get her into the freezer. Then back to the cabin and see if any nice bucks want to offer themselves to me. Bucks are finally starting to move now and have a few 6 pointers and a couple 8's on camera. Nothing big yet, but will try doing a little calling tomorrow
Hanging in my yard
2 blade Kill Zone entrance wound..exit wound was removed when I gutted her. she was quartering towards me and it entered just behind the right shoulder and exited front of the stomach area low. Hit the heart and lungs.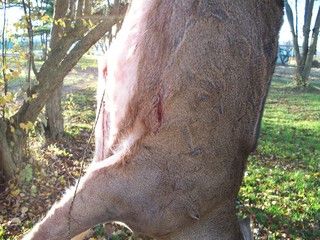 She was 50 yards from county highway 13 when shot and when I tracked her I found blood on the highway and thought she had crossed. After looking for blood on the other side of the highway for about 20 minutes I finally went back to the last blood I found and after a few minutes realized that she had doubled back and went into the ditch about 20 feet from where she came out. She made it back to the fence line again and collapsed there.