Been awhile
since I've been on the net … busy time of year and mega problems with picture transfers thru Photobucket ?
Here are
some pic's thru October/November/December 2016 .
Forum
member "Sandman" sent me a picture of his successful moose hunt > Nice Bull ...
Also
, the handy man he is > did a good job on the European mount of his bull !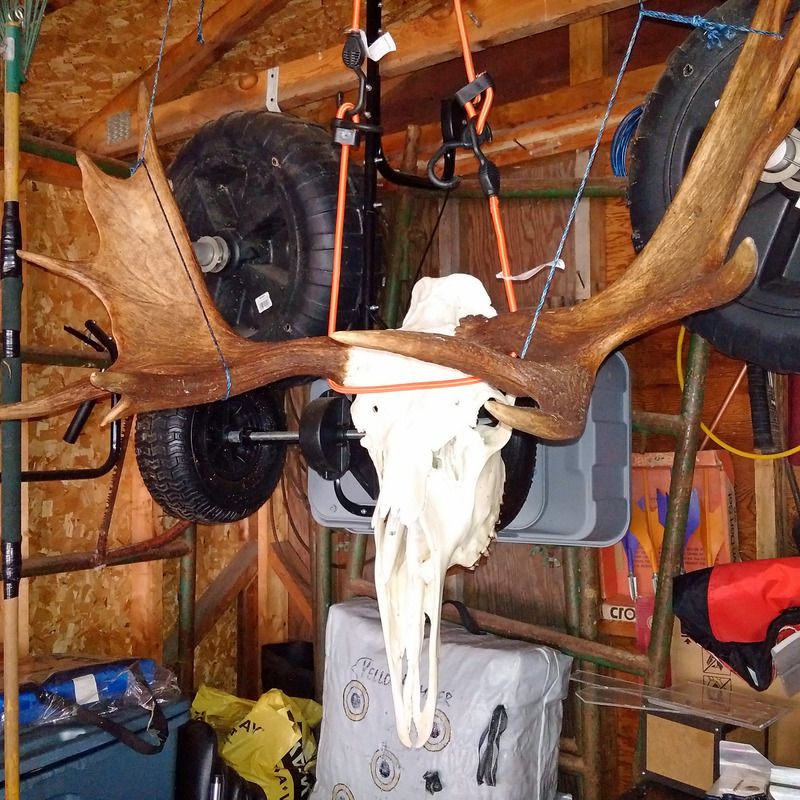 For a change
of pace > Randy hunted with Dwayne and tried the rifle hunt further North of where we usually hunt , on a property that Dwayne owns and they score a couple nice bucks …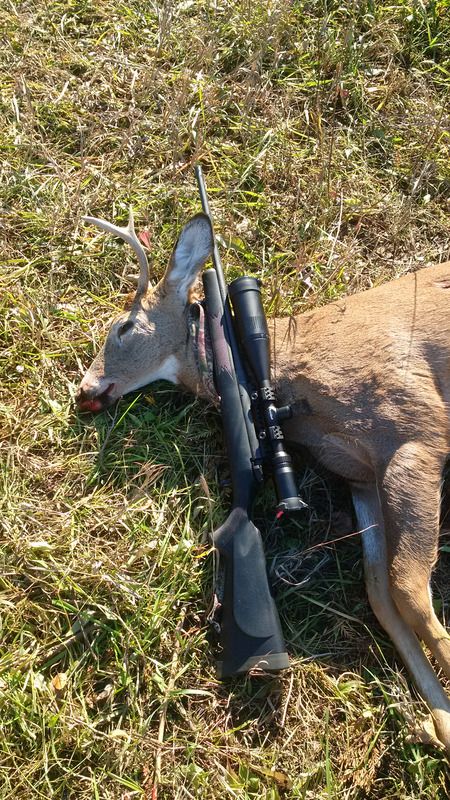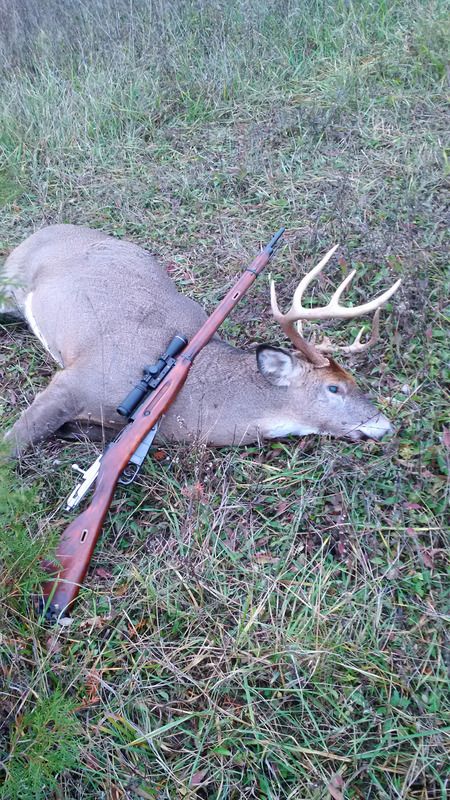 Randy's son
, Rob scored a buck in the WMU80 Controlled hunt …
With only a single tag this year
in the WMU's that I usually hunt > I first passed some doe / fawn / small bucks as the season progressed …
Then missed
( shot over ) a nice 8 point in October
Then only had
one other opportunity on a mature buck into November when another nice 8 point walked past my blind > I bahhed him , but he stopped a few steps later in some slash cover at 35 yards and I wasn't comfortable with the shot , so I passed .
Also had a few hunts
spoiled by farm equipment passing at a bad time and one trespasser that messed up an opportunity on another buck … and that's how my season progressed . Still fun to get outdoors though !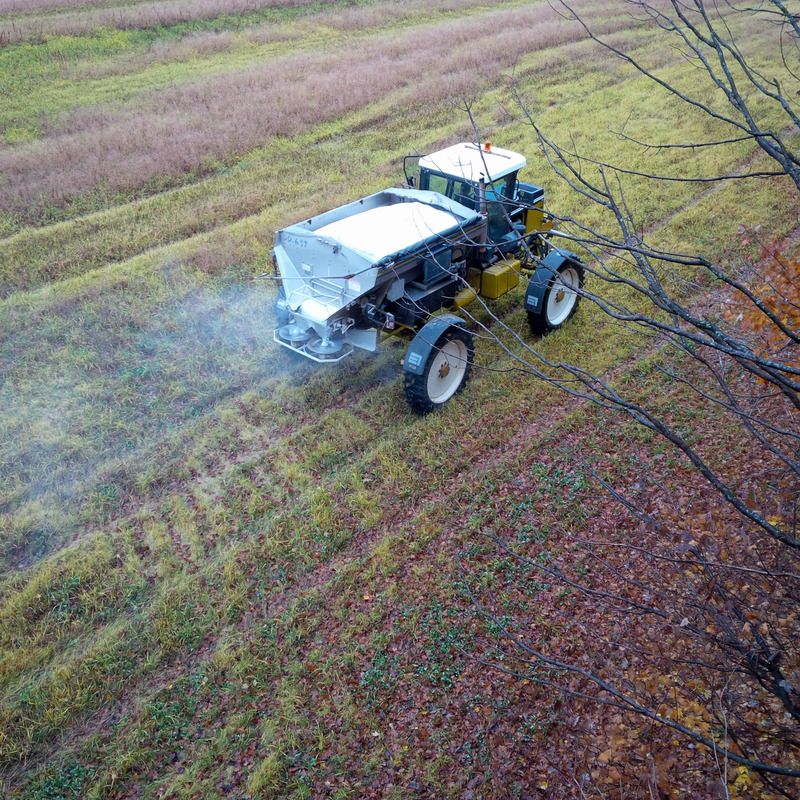 I never hunted the controlled hunt this year
> with one tag only I was confident I would tag out with my Exocet 200 .
After a
successful fall hunt , I still kept seeing turkeys while in a blind waiting for deer .Got some cool video as well but difficulties getting videos to post ?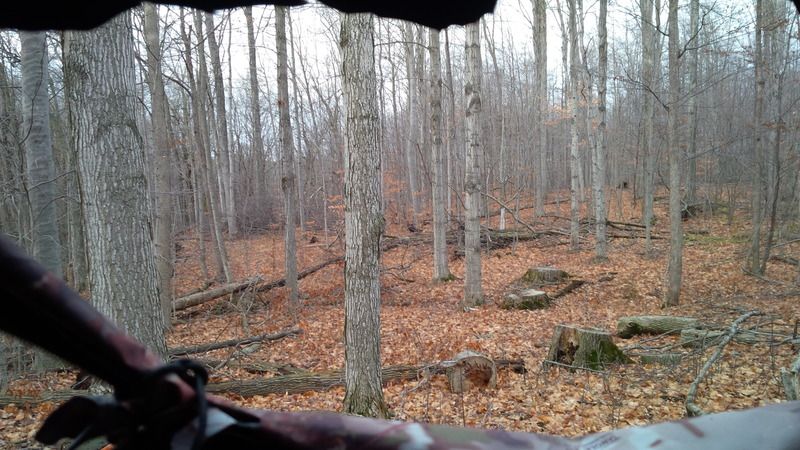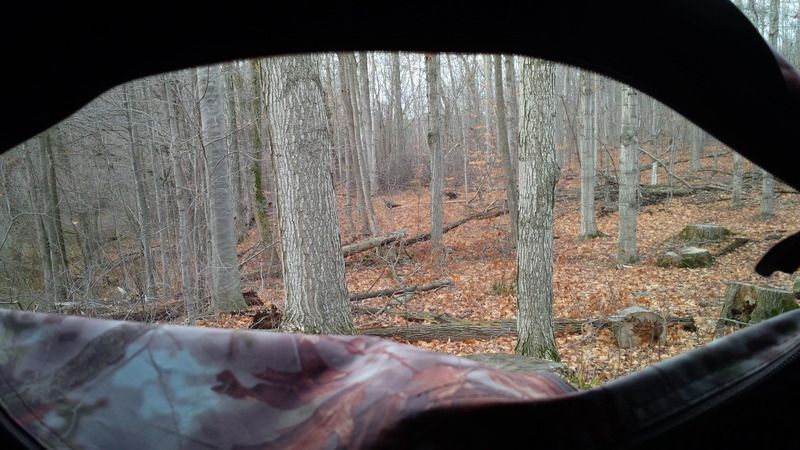 Slow but sure
, I kept at it and during one afternoon stand on a bright November day while hunting deer , I arrowed two coyotes 5 mins apart . I saw a doe and fawns spook thru the hardwoods > later I see three shadows quartering thru the cover > 1st yote ( a female ) stopped at 20 yards to scent mark > I whistled a 130 grain WASP Broadhead thru her > two sideways cart wheels and it ran back towards the farm spruce lane ….
Five minuets later
a larger male came straight in and was sniffing the spot the other had been when I passed a 150 grain Bolt Cutter Broadhead thru him > He expired within sight of the tree … That is my 1st double coyote with an Excalibur crossbow ! … The third yote never did show up , although later I heard some locate yelps/barks .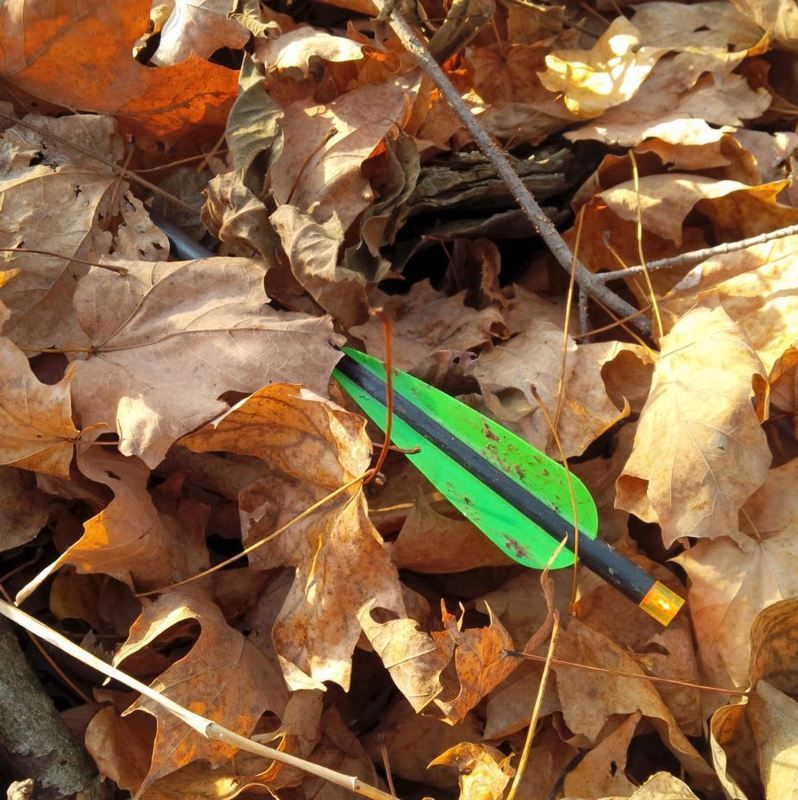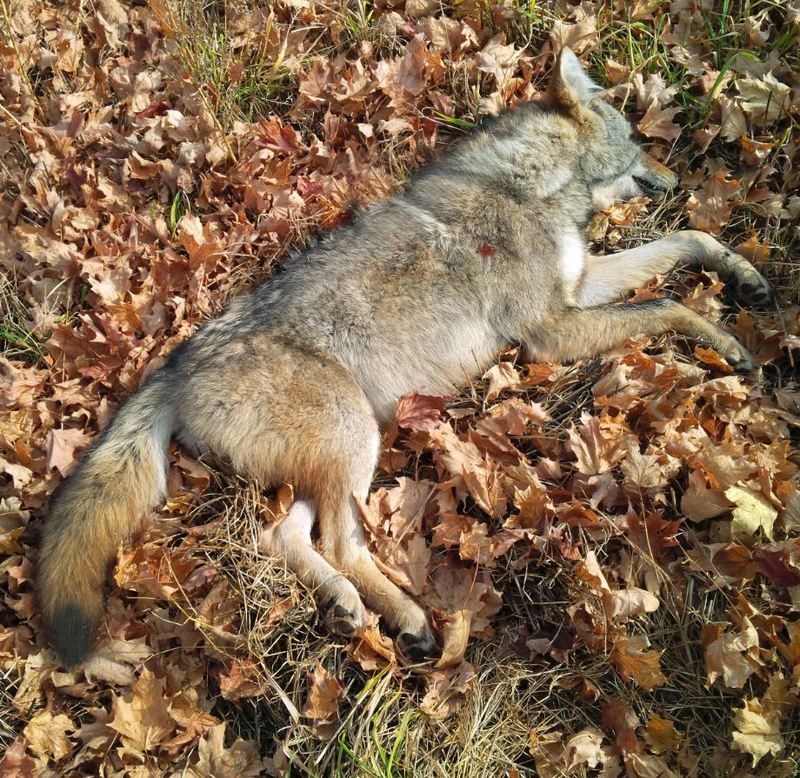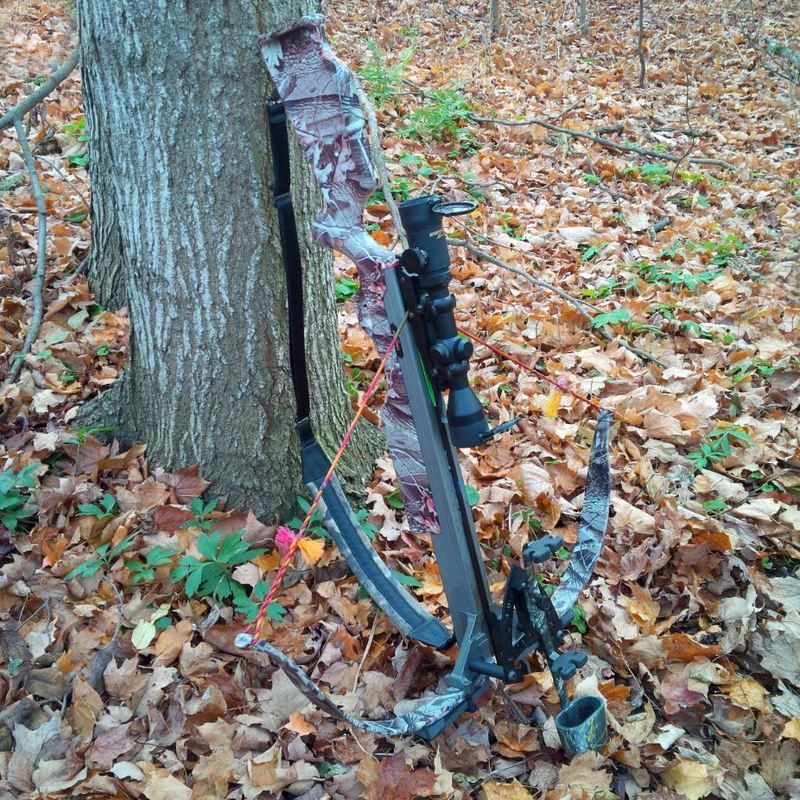 Then slowly into December
> the snow came > we usually welcome the snow , but this year it gave us some grief with access to a few properties due to deep snow although we did our best to keep the trails packed with our trucks , the drifts eventually won .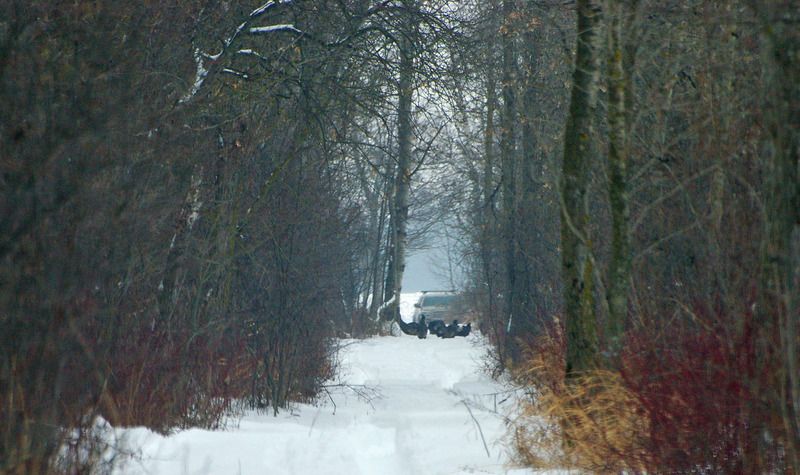 During Christmas Holidays
, Chris H's son Blaine scored his first deer ever with an Excalibur Vixen … A perfect 20 yard shot with a short recovery distance ! Perfect for his 1st deer !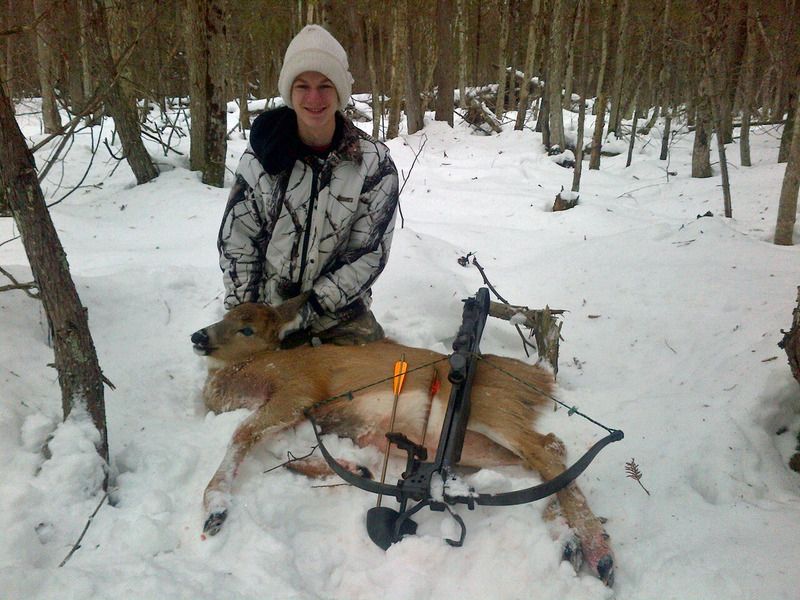 Flu/Cold/ and other ailments
hit the group over the Holidays ( Wylie was out ) and I was in rough shape from Dec 26th on with a nasty cold … I passed up about 4 hunting days to try and recuperate …. Then my wife encouraged me to get some fresh air , she got me mobile with some meds yesterday afternoon ( the last day of our season ) and I made it out to a ground blind ( fronted with some straw bales ) … originally I was just going to watch from the ridge till dark but I saw fresh deer tracks so I buttoned up in the blind and waited …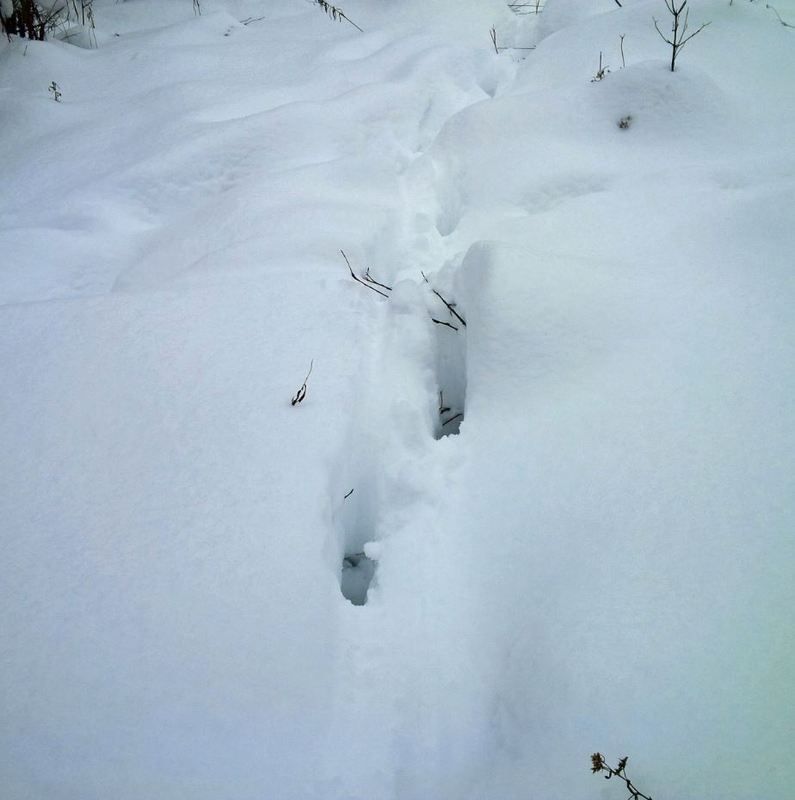 With about
½ hour of legal shooting light left , a doe walked in and gave me a challenging hard quartering away opportunity … My Exocet 200 was steady rested on a tripod , I eased my eye to the scope and I slapped the trigger to send a 150 grain bolt cutter down the rail … the Luminock looked like a laser line straight to her , then the last thing I saw was the red laser turn abrupt left and disappear ? ( Im shooting slightly up hill at the time ) .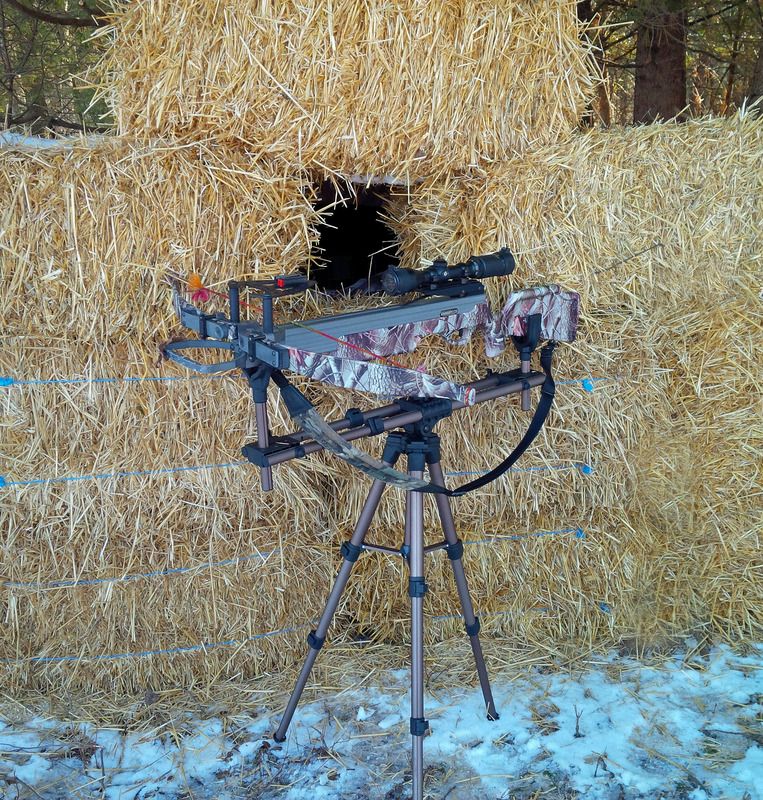 The doe bolts
up hill and into the field like this …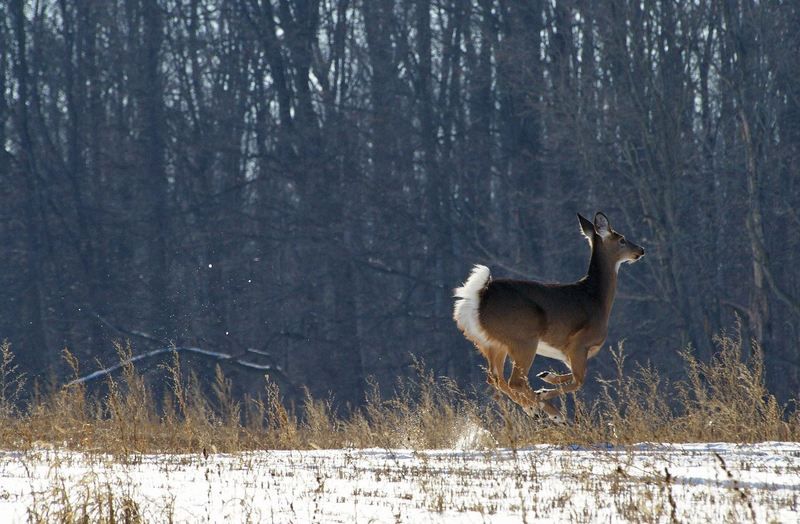 I cant see blood
from the blind and I hear other deer busting bush behind me , so I sit and wait till after dark ( better safe then sorry ) … I text the guys … walk back to the truck and drive to the barn to get my tractor .
I drive to the back , walk down the hill and find my arrow … then drive the tractor into the field parallel to where the running tracks show a blood trail .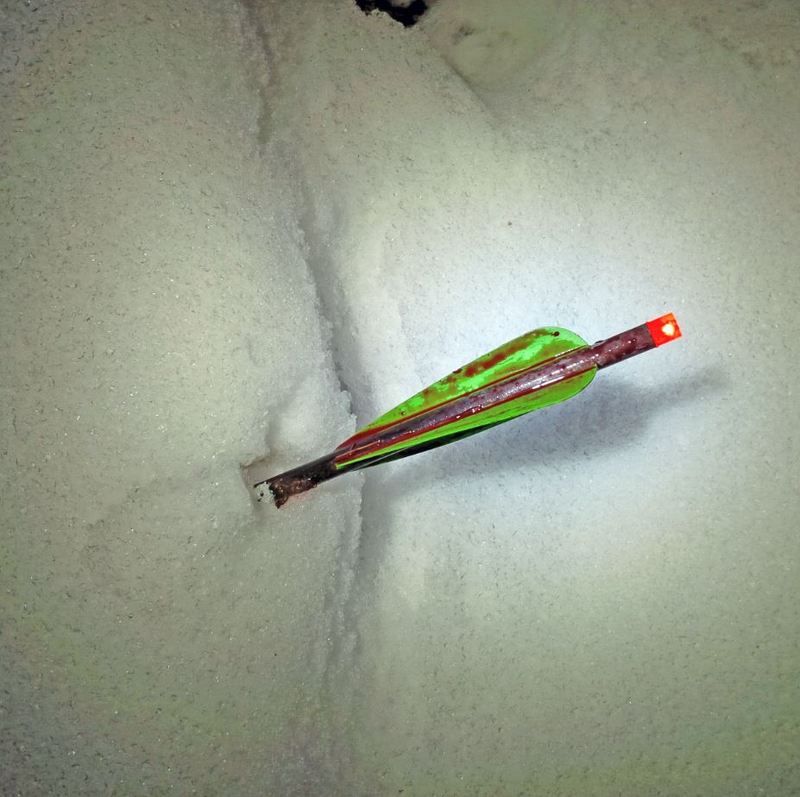 The previous wait was not necessary
… As I approached the peak of the hill she ran up , I see she dropped dead in her tracks at the last spot I saw her from the blind . ( 20 yard shot / 80 yard recovery ) ( pass thru quartering away / entry behind right side rib cage / exit left side mid rib cage high ) … my night ends in the bush with a coyote yelping at me … at least I can say " no tag soup for me " !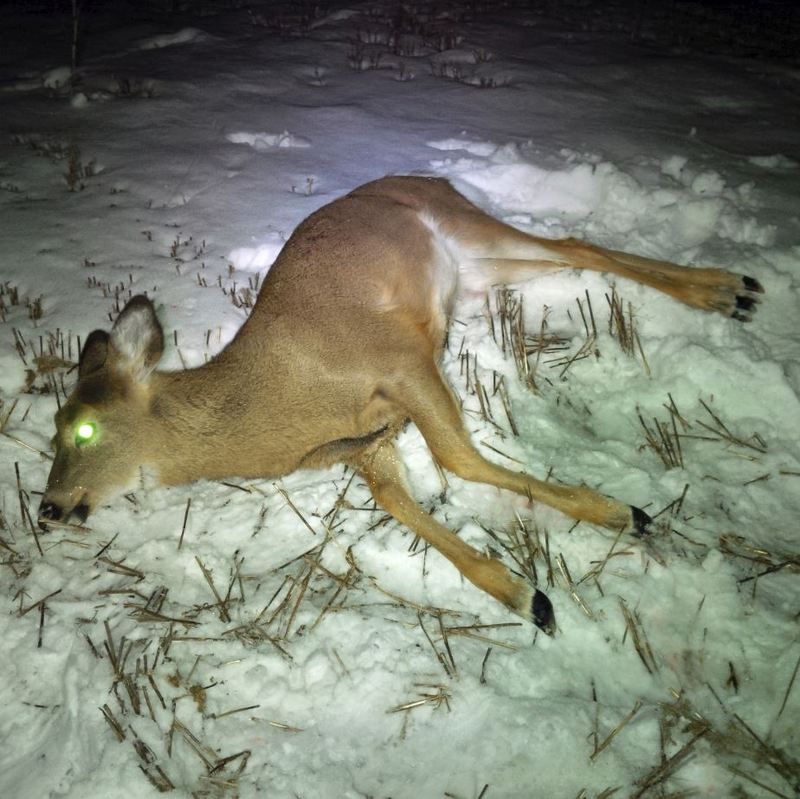 Today is January 1st
( my Birthday ) > Frank V. stopped by and we took the deer to our butcher … Now we go into the new year with a fresh gut pile to entice the coyotes …
Congrat's to all that hunted this year … thanks for sharing your stories on the forum … Happy New Year , and good luck with your field adventures into 2017 !