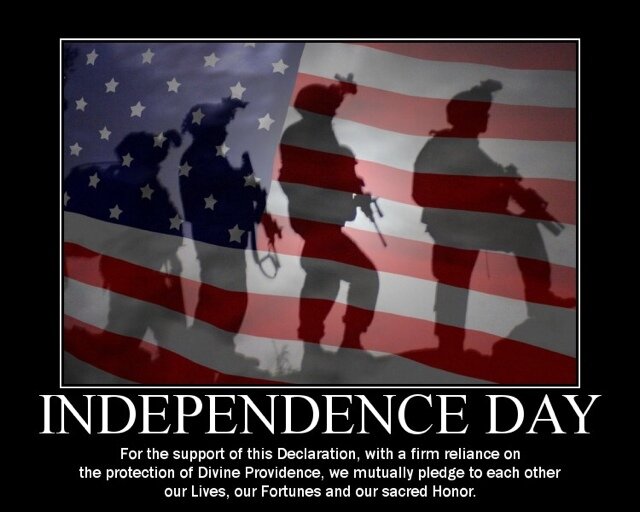 I know this forum is supposed to about all things crossbows and hunting and the great outdoors.
BUT...
Without
Independence
, there would be no
FREEDOM
. No firearms for "Joe Citizen". No ability to choose your own path. The right to choose where you live, how many kids you have. And where and how you worship, would be decided by someone else.
Our forefathers here in America, took a ragtag handful of men who sought a better way of life for themselves and their families, and forged them into a Country that knows no bounds. To cast aside said liberty and freedom in the name of "political correctness" , is to spit into the face of every soldier that ever died in battle. To mock every parent who never got to say "Goodbye" to their son or daughter. To sneer at the tears that look to the fireplace mantel to see that folded flag we call "Old Glory".
Call me a sentimental old fool, but I believe in, and
LOVE My Country!!!
As the 4th of July rolls around tomorrow, please take a moment and remember those who have stood in harms way. Who fought for your right to condemn, protest, complain and berate this land of mine and my forefathers.
I hope and pray that your kids are safe. I hope they are free from tyranny. I hope your wife can go shopping without fear of being mugged. And that no one takes your home from you.
If you can lay down at night and sleep in peace, and fear not what tomorrow might bring, you might want to thank your lucky stars. Or better yet,
THANK
those who served and have kept you and yours
SAFE and FREE!!!
GOD BLESS AMERICA!!!
GOD BLESS THE BRAVE WHO MADE HER FREE!!
AJ