https://postimg.cc/Hcqxt2px]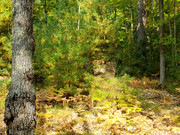 Kinda in the sun during afternoons but not too bad.
Setup on little knoll , acrross from trails coming down to a raven and accross an old rd. 30 yrds max. Tracks all over the rd.
Mainly for upcoming rifle youth doe , but hoping a buck follow the does come ruttin season.
Wondering how others setup their ghost blinds. I'll try get a better pic next trip